Welcome to the 2023 ZNA Carolina Koi Show
Raleigh Elks Lodge #735,
5538 Lead Mine Road, Raleigh
Friday, 4/28/2023: open to the public 12:00p – 6:00p
Saturday, 4/29/2023: OPEN TO THE PUBLIC 9:00A – 5:00P
SUNDAY, 4/30/2023: OPEN TO the Public 9:00A – 1:00P
Free Admission Daily
---
a few reminders for our guests…
1. Visit the Registration table throughout the day for information, lost and found, club membership, club swag and raffle tickets.
2. Walk through the exhibitor tank area to see some really beautiful koi. Please do not put your hands in the water or tap on the tanks.
3. Take photos or video of the koi and share with friends and family! The only restriction is videography of the judges while they are actively judging a koi tank.
4.  Please ask questions about koi, the koi show, vendors from any of the ZNA Carolina Show Staff.  Please refrain from speaking with the judges during judging.
5. Visit our vendors!! We have a wide variety of vendors who support our club and many koi shows throughout the United States. You will be able to purchase high quality koi, goldfish, pond supplies, art, plants and other fun items.
Thank you again for visiting the 2023 koi show! Keep scrolling for more details about raffles, koi judging and membership in ZNA Carolina.

How do I become a club member?
Visit the registration table for an application.
Club meetings are held monthly online (usually the first Tuesday of the month, 7:00 pm EST).
How does the Raffle work??
You can purchase a single ticket for $1 or 6 tickets for $5 (multiples will be calculated accordingly, e.g. 24 tickets for $20)
Items for raffle are donations of new and used items.
The items on the raffle table have a small container to insert a raffle ticket. Make sure you hang on to one portion of the double ticket.
Throughout the day, items will be pulled from the raffle table and the winning ticket selected.
Items and ticket numbers will be on display at the registration table. Check back frequently to see if you have won!
How do the koi get to the show? And what happens before judging starts on Saturday?
Koi are transported to the show in special fish transportation vats or in plastic bags with air and water. Koi keepers will place the bagged koi in sturdy boxes or coolers.
Most of the koi arrive throughout the day on Friday and are "benched" into the show. Each koi is measured (length in cm) and a photo is taken. The koi variety is confirmed and all information placed into the show database.
If you are visiting the show on Friday afternoon or Saturday morning – did you know that you can enter a purchased koi through one of the koi vendors? 
---
Who are the judges for the 2023 koi show?
Alan Stein, head judge (Assistant Certified Judge, SoCal)
Luanne Porter (Local Judge, Southern Koi)
Ray Alexander (Student Judge, NMZNA)
How are koi judged?
Each koi is judged/appreciated in four different areas:
Conformation which is a pleasing koi shape, all body parts present and symmetrical, and size
Quality which is determined by the brilliance of white and depth of colored areas.
Pattern which is a little more subjective but does the koi exhibit a pleasing combination of colors, visual balance.
Finish which often implies is the koi "show ready" – colored areas are well defined, reticulation is pronounced.
Every koi is looked at by the judging team. Each koi show runs a little differently but the general judging procedure is:
Koi are first judged with every other koi in their SIZE category.
Champions are selected based upon how well the koi placed in their size category and the criteria of each champion category.
Best in Variety is selected after Size and Champion awards.
Other awards are also given by visiting koi club members.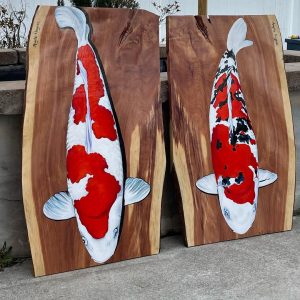 ---
What kind of koi are being exhibited?
There are many varieties of koi. Here are some of the varieties you might see in our koi show today:
KOHAKU – red and white
SANKE – red, black and white…the black is generally in clusters and not on the head
SHOWA – red, black and white… the black is more band like and black is found on the head
SHIRO UTSURI – black and white, black is band like
BEKKO – white and black, black is small clusters
ASAGI – blue gray, can have red/orange markings
SHUSUI – scaleless version of the Asagi, defined zipper pattern on back
GOROMO – white with a robed overlay on the color areas
GOSHIKI – light gray to black with thick red color areas that appear to float above the scales
KUJAKU – metallic koi with a red/orange color pattern
OCHIBA – silver/gray base with gold/bronze markings
CHAGOI – single color koi (generally green-brown-mustard shade)
OGON – single color, metallic koi
TANCHO – round patten on head
BENI KIKOKURYU – metallic, scaleless koi with red and black markings
KUMONRYU – scaleless black and white koi
---
What is a "doitsu" koi?
A doitsu koi is a scaleless koi. It's skin resembles soft leather. Color areas of high quality doitsu koi have depth, even tone and are clearly defined.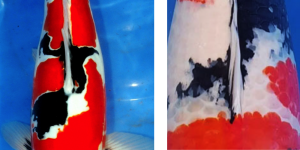 ---
What is a "gin rin" koi?
If a koi has at least three rows of "sparkly" scales on each side, it is considered a "gin rin" version.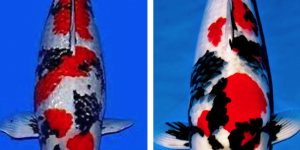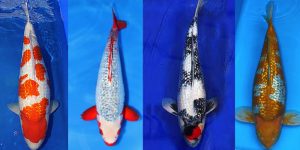 ---
Why are there "A" awards and "B" awards?
Each show is different and establishes award categories. Traditionally the three varieties known as "gosanke"- Kohaku, Sanke and Showa – were classified in the A category. Recently Zen Nippon Airinkai added Utsurimono to this group. All koi entered under these four classifications and their ginrin counterparts are eligible for "A" awards.  All other koi are eligible for "B" awards.
Figuring out the awards system gets very complicated but thankfully we use a computer system which sorts koi into the correct hierarchy. We are grateful for the assistance of experienced scoring experts like Patricia Hall to keep it all straight.

---
Are there other koi shows I can visit?
MAY 26-28, 2023 Greater Louisville Koi and Goldfish Show, Louisville, KY
JUL 14-16, 2023 Upper Midwest Koi Club, St. Louis Park, MN